Posturi vacante Miele Tehnica Brașov
Bine ați venit la Miele! Ne bucurăm că doriți să faceți parte din echipa noastră.
Găsiți mai jos posturile vacante. Pentru a vă înregistra în baza de date, vă rugăm să trimiteți un C.V. la adresa de e-mail de contact: recrutare@miele.ro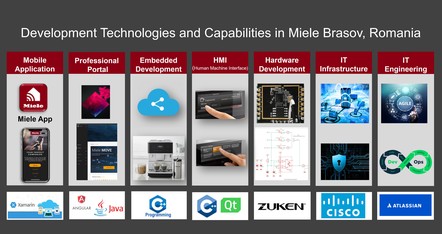 You should do:
₊Development of mobile apps based on storyboards or design concepts;
₊Test and documentation of deliverables;
₊Ensure that deliverables meet quality goals and time constraints;
₊Maintain a close working relationship with concepters, software engineers and architects at Miele Electronic in Germany.
Must Have Requirements:
·Relevant experience in C# development minimum 3 years;
·Alternatively minim 3 years experience in mobile application development and willingness to learn C#;
·Knowledge of REST, JSON, XML/XSLT, Regex;
·Knowledge of code testing frameworks and software versioning (Git, TFS);
·A keen interest in technical details and a drive to get things working;
·Excellent spoken and written English (level B2)
·A positive attitude to be working in a team in an international environment, with a self-starter attitude and eagerness to tackle unknowns, including pro-active and open communication;
Nice to Have Requirements:
·Is an advantage the experience of Xamarin framework (Forms and/or Native);
·Familiarity with platform-specific APIs and UI/UX guidelines (iOS, Android);
·Experience working within an agile software development system, specifically using Scrum;
·An understanding of software architecture and interdependencies of networked hardware;
·A desire to actively follow the developments presented at .NET Conf, Microsoft Build,
·Google I/O, WWDC or related events;
·Bachelor or Master degree in Computer Science, Information Technology or a related field;
·German language is an advantage;
·Willingness to go on business travel to the German HQ from time to time.
Departament
Software Development
Functie / Titulatura
Mobile Application Developer
Calificare
Relevant experience in C# development minimum 3 years; Alternatively minim 3 years experience in mobile application development and willingness to learn C#;