Posturi vacante Miele Tehnica Brașov
Bine ați venit la Miele! Ne bucurăm că doriți să faceți parte din echipa noastră.
Găsiți mai jos posturile vacante. Pentru a vă înregistra în baza de date, vă rugăm să trimiteți un C.V. la adresa de e-mail de contact: recrutare@miele.ro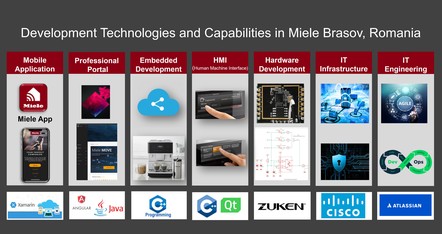 You should do:
₊Design and implement software of embedded devices and systems from requirements to production;
₊Design, develop, code, test and debug system software;
₊Review code and design;
₊Analyze and enhance efficiency, stability and scalability of system resources;
₊Integrate and validate new product designs;
₊Interface with hardware design and development;
₊Assess third party and open-source software;
₊Being a Mentor for other colleagues.
You should have:
₊Bachelor or Master (preferable) degree in Computer Science, Electronic/ Electrical Engineering or a related field;
₊Strong proficiency in C/C++, as well as in scripting languages like Python and JavaScript;
₊+5 years professional experience in development of related tools & practices (configuration management, debugging and refactoring of legacy code, software lifecycle, V-model, SCRUM Agile methods, review techniques, continuous integration and delivery, etc.);
₊Knowledge of design patterns and methodologies, sustainable API-design;
₊Familiarity with safety concerned software designs and rules (e.g., MISRA, Software Safety Classes);
₊Strong knowledge of microcontroller technology and electronic components and how to read schematics and how to make use of datasheets;
₊Hardware Testing and capabilities on different microcontrollers;
₊Knowledge about communication protocols and how they are working (USB, SPI, UART, I2C, CAN, LAN etc.)
₊Excellent spoken and written English; Knowledge of German language is an advantage;
Willingness to go on business travel to the German HQ and relating plants.
Departament
Software Development
Functie / Titulatura
Senior Embedded C++ Developer
Embedded Coffee
Calificare
Bachelor or Master (preferable) degree in Computer Science, Electronic/ Electrical Engineering or a related field;