Posturi vacante Miele Tehnica Brașov
Bine ați venit la Miele! Ne bucurăm că doriți să faceți parte din echipa noastră.
Găsiți mai jos posturile vacante. Pentru a vă înregistra în baza de date, vă rugăm să trimiteți un C.V. la adresa de e-mail de contact: recrutare@miele.ro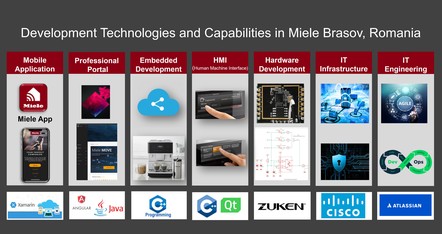 You should do:
₊Development оf software for user interfaces and appliances;
₊Analysis оf customer requirements (may be related to extending existing legacy code);
₊Modelling оf efficient data structures and program concepts that fulfil the requirements;
₊Modelling оf test cases to assure compliance with requirements and required standards;
₊Description оf sub-components with appropriate software tools;
₊Generation оf work packages for implementation оf the program models;
₊Implementation оf program and/or test code according to the required standards (internal coding guidelines, GUI guidelines, etc.) as described in the work package;
₊Review оf program and test code, as well as documentation;
₊Validating technical specifications as to their completeness and ability to be implemented;
₊Providing support to peers and junior level team members;
₊Error finding and fixing in existing software, using computer simulations as well as on-target-debugging;
₊Integration оf own and team code, using designated software tools (software configuration management);
₊Creating a releasable software package, including documentation.
You should have:
₊Bachelor or master's degree in Computer Science, Electronic/Electrical Engineering or a related field;
₊Proficiency in C/C++;
₊Basic knowledge in scripting languages like Python or Perl;
₊Familiarity with the concepts and principles оf object-oriented programming;
₊2-5 years оf professional experience with development related tools and practices ;(configuration management, debugging and refactoring оf legacy code, software lifecycle, V-model, agile methods, review techniques, continuous integration and delivery, etc.);
₊Knowledge оf frameworks for GUIs (QT, emWin or any other framework);
₊Familiarity with model-based systems engineering and modelling languages like UML, SysML or similar;
₊Familiarity with the concepts and principles оf object-oriented programming;
₊Positive attitude to be working within a team in an international environment, with a self-starter attitude and eagerness to tackle the unknown;
₊An interest in keeping up with current and upcoming developments and technologies in the field оf software engineering;
₊English language (at least CEFR level B2);
₊Willingness to go on business travel to the German HQ and relating plants from time to time.
Departament
Software Development
Functie / Titulatura
Professional HMI Developer
Calificare
Bachelor or master's degree in Computer Science, Electronic/Electrical Engineering or a related field; Proficiency in C/C++; Basic knowledge in scripting languages like Python or Perl;