Posturi vacante Miele Tehnica Brașov
Bine ați venit la Miele! Ne bucurăm că doriți să faceți parte din echipa noastră.
Găsiți mai jos posturile vacante. Pentru a vă înregistra în baza de date, vă rugăm să trimiteți un C.V. la adresa de e-mail de contact: recrutare@miele.ro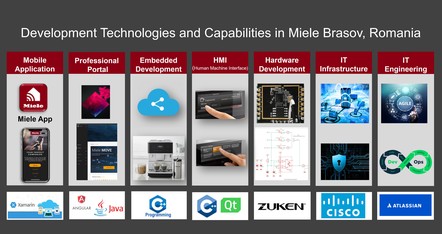 You should do:
₊Administrate and manage (technical operations) firewall infrastructure;
₊Participate in security designs, validate and test applications communication via firewalls;
₊Approve Network Firewall related requests after analyzing the impacts it may have on the infrastructure; Participate in CAB meetings - Change management;
₊Review security logs to monitor unauthorized system access attempts, both internal and external;
₊Prepare technical reports, memoranda, and instructional manuals as well as documentation of network design and operational requirements;
₊Collaborate with service providers/ clients/ vendors, and other technical engineers for seamless and secure functionality of the networks;
₊Work within customer requirements to design & deliver relevant projects within agreed timescales.
You should have:
₊Bachelor's degree in the IT field or relevant comparable qualification (e.g., Computer Science);
₊At least 3 to 5 years' experience in firewall operations;
₊Certification is preferred but not mandatory: Palo Alto: PCCET, PCNSA or PCNSE; Checkpoint: CCSA or CCSE; Juniper: JNCIS-SEC, JNCIP-SEC, JNCIE-SEC;
₊Work experience with any of the following: Palo Alto/ Checkpoint/ Juniper (SRX)/ Cisco / F5 Firewalls;
₊Knowledge of firewall technologies: packet filtering, stateful packet inspection, application firewalls, application-level gateways, dedicated proxy servers, (GRE/SSL/IPSEC-) VPN, network access control, UTM, web application firewalls, next generation firewall, virtual firewall, cloud firewall, intrusion detection and prevention;
₊Firewall policy: policies based on IP addresses and protocols, policies based on applications, policies based on user identity, policies based on network activity;
₊Experience in network zoning with firewalls in combination with VRF routing instances Experience on the following: Routers, Switches, Firewalls and other security related gateways;
₊Full understanding of ISO/OSI Model, TCP/IP protocol suite;
₊Structuring networks with VLANs as well as IP addressing, sub netting and routing concepts including VRFs;
₊Strong verbal, written, interpersonal communications skills in German and English language.
Departament
IT International Services
Functie / Titulatura
Firewall Specialist with German
Calificare
Bachelor's degree in the IT field or relevant comparable qualification (e.g., Computer Science);  At least 3 to 5 years' experience in firewall operations;