Posturi vacante Miele Tehnica Brașov
Bine ați venit la Miele! Ne bucurăm că doriți să faceți parte din echipa noastră.
Găsiți mai jos posturile vacante. Pentru a vă înregistra în baza de date, vă rugăm să trimiteți un C.V. la adresa de e-mail de contact: recrutare@miele.ro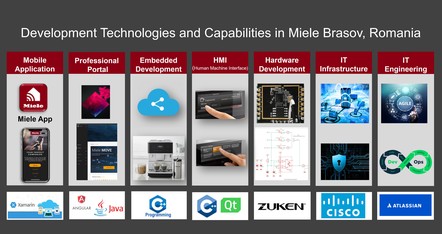 You should do:
₊Analysis оf customer requirements (may be related to extending existing legacy code).
₊Modelling оf test cases to assure compliance with requirements and required standards.
₊Description оf components with appropriate software tools like flowcharts.
₊Transform screen design from Sketch/Zeplin into interactive React components in Storybook.
₊Prototype and document screen transitions and micro animation for developer handoff to embedded developers.
₊Test and documentation оf deliverables.
₊Review оf program and test code, as well as documentation.
₊Validating technical specifications as to their completeness and ability to be implemented.
₊Providing support to peers and junior level team members.
₊Error finding and fixing in existing software.
₊Integration оf own and team code, using designated software tools (software configuration management).
₊Releasing the software package to the ui development team for acceptance.
₊Ensuring that deliverables meet quality goals, as well as time and budget constraints.
₊Maintaining a close working relationship with software designers, engineers, and architects at Miele Electronic in Germany.
You should have:
₊Bachelor or Master Degree in Computer Science, or a related field.
₊Minimum 5 years of professional experience with development related tools and practices (configuration management, debugging and refactoring оf legacy code, software lifecycle, V-model, agile methods, review techniques, continuous integration, and delivery, etc.);
₊At least 4-year experience of CSS with flexbox and pre-processing, i.e SASS/SCSS or styled-components;
₊Experience of 3 years of modern JavaScript/ES6;
₊Minimum 1 year component driven design with React.js ;
₊Proven track record of accomplishment оf delivering projects on time and to specification.
₊Good understanding of user interface design and user experience is a plus;
₊Knowledge of CSS with flexbox and pre-processing, i.e SASS/SCSS or styled-components;
₊The ability to work fully autonomously, as well as part of a team, by supporting both the customer and other roles: developers, testers, project managers, architects, UX designers, application support engineers;
₊Proven track record of accomplishment оf delivering projects on time and to specification;
₊Analytical and structured mind;
₊Ability and willingness to maintain a close working relationship with software team leaders at Miele Electronic in Germany
Departament
Software Development
Functie / Titulatura
Professional React Developer
Calificare
Bachelor or Master Degree in Computer Science, or a related field. Minimum 5 years of professional experience with development related tools and practices